transcosmos signs new alliance agreement with Dassault Systèmes, applying solutions to wider areas
2023-06-12
Provides continuous support to manufacturers in achieving Business Transformation (BX)
transcosmos inc. (Representative Director, Co-presidents: Masaaki Muta, Takeshi Kamiya) is delighted to announce that the company has signed a new system integrator alliance (SIA) agreement with Dassault Systèmes K.K. (Headquarters: Tokyo, Japan; Managing Director: Philippe Godbout; Dassault Systèmes). By expanding the use of Dassault Systèmes' 3DEXPERIENCE platform and various other industry solutions, and combining them with transcosmos's expertise in consulting and service delivery, the two companies will contribute to driving value for the end customer.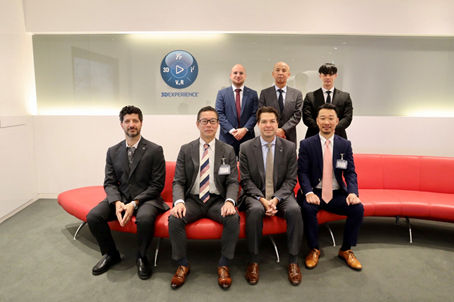 From bottom left: Fabio Crisafulli, C&SI Alliance & NETVIBES Director, at Dassault Systèmes K.K.
Takuma Hirono, Corporate Officer at transcosmos
Philippe Godbout, Managing Director at Dassault Systèmes K.K.
Koji Harada, Division Manager of Engineering Transformation Services Division at transcosmos
From top left: Antoine Logeais, Partner Skills & Excellence, Industry Process Consultant, at Dassault Systèmes K.K.
Takao Shimada, Deputy Division Manager, Sales Strategy Division, Sales Headquarters; Kotaro Hara, Sales DepartmentⅠ, Sales DivisionⅠ, Sales Headquarters at transcosmos
transcosmos has long been a strategic partner of Dassault Systèmes K.K., collaborating in diverse areas including Model-Based System Engineering (MBSE) and simulation using 3DEXPERIENCE platform, CATIA, ENOVIA and more. Now, with this SIA, the two companies aim to focus on entering untapped areas such as manufacturing and marketing, targeting industrial machinery, life science and other new industries. To achieve the goal, transcosmos will implement Dassault Systèmes' DELMIA and CATIA Magic, a new solution under CATIA offerings.
"We are delighted to enter into a new alliance partner agreement with transcosmos inc.," Fabio Crisafulli, C&SI (Consultant & Service Integrator) Alliance & NETVIBES Director, at Dassault Systèmes K.K. said. "transcosmos is an excellent company with a wealth of knowledge of our 3DEXPERIENCE platform and solutions. We are confident that we can continue to forge a long lasting, fruitful collaboration with transcosmos."
"Combining Dassault Systèmes' solutions and our proven knowledge of business process analysis, digital platform development and data management, we will offer new services and solutions that help manufacturers achieve their business transformation," said Koji Harada, Division Manager of Engineering Transformation Services Division at transcosmos inc.
As a long-term partner of Dassault Systèmes, transcosmos will continue to assist manufacturers in delivering Business Transformation (BX).
* transcosmos is a trademark or registered trademark of transcosmos inc. in Japan and other countries.
* Other company names and product or service names used here are trademarks or registered trademarks of respective companies.
*3DEXPERIENCE, the 3DS logo, the Compass icon, IFWE, 3DEXCITE, 3DVIA, BIOVIA, CATIA, CENTRIC PLM, DELMIA, ENOVIA, GEOVIA, MEDIDATA, NETVIBES, OUTSCALE, SIMULIA and SOLIDWORKS are commercial trademarks or registered trademarks of Dassault Systèmes, a European company (Societas Europaea) incorporated under French law, and registered with the Versailles trade and companies registry under number 322 306 440, or its subsidiaries in the United States and/or other countries.

About transcosmos inc.
transcosmos launched its operations in 1966. Since then, we have combined superior "people" with up-to-date "technology" to enhance the competitive strength of our clients by providing them with superior and valuable services. transcosmos currently offers services that support clients' business processes focusing on both sales expansion and cost optimization through our 170 bases across 28 countries/regions with a focus on Asia, while continuously pursuing Operational Excellence. Furthermore, following the expansion of e-commerce market on the global scale, transcosmos provides a comprehensive One-Stop Global E-Commerce Services to deliver our clients' excellent products and services to consumers in 46 countries/regions around the globe. transcosmos aims to be the "Global Digital Transformation Partner" of our clients, supporting the clients' transformation by leveraging digital technology, responding to the ever-changing business environment.